I've been struggling with VirtualBox 3.0 since I've upgraded my MacBook Pro to Mavericks one week ago.
The problem was that launching the software and Virtual Machines led to kernel errors like "Kernel Driver not loaded" and "Failed to load VMMR0.r0"
Googling leads to VirtualBox Forums and Apple Support Community posts stating to reinstall VirtualBox on top of existing installation, but this fixes the issue only temporarily since at reboot the issue will be still there.
Likewise, dragdropping VirtualBox to the Trash Bin and reinstalling seems not to help.
Even using the uninstal tool provided with VirtualBox does not seem to help.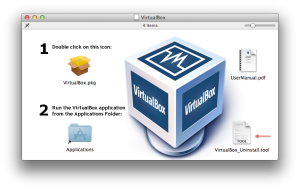 The final trick is to modify the Mavericks security settings (Security & Privacy – General tab) for the time needed for the reinstallation, configuring the parameter "Allow apps downloaded from:" to Anywhere as shown below:
Then confirm, proceed to install VirtualBox 3.0 and change back the setting to previous safer configuration.
Once completed, you can enjoy a "reboot-safe, error-free" VirtualBox environment.
RoarinPenguin